Frequently Asked Questions
How do I refer to Talk Together?
---
We are happy to receive referrals from families, schools/preschools, GPs, and specialists. Simply contact us us through the website, email or phone.
---
How much do your services cost?
---
For Speech-Language Therapy pricing please click here. For Social Skills Groups pricing please click here. Workshops vary in costs depending on the content and length of class. We advertise pricing for individual events on the event information page.
---
What age should my child be to start Speech-Language Therapy?
---
We encourage starting SLT as young as possible. Talk Together's clients range between the ages of 0-18.
---
Who are you Social Skills Groups tailored towards?
---
We run groups for 3 different ages which allows us to tailor the content accordingly: 2-5 5-10 11-17 Find out more information here!
---
How do I access paid online resources and videos?
---
To access our paid resources you must first sign up for an account and then complete the payment transaction. 1. click on the resource you wish to purchase:
2. you will then be asked to proceed to checkout where you can sign up for a member account - if you've purchased before you can log in:
Enter your email and password here and then complete the PayPal transaction. 3. Once you're PayPal transaction is completed you will then be redirected to the video:
If you click back to the resources page you'll notice that when you hover over the video you will now be able to click to play: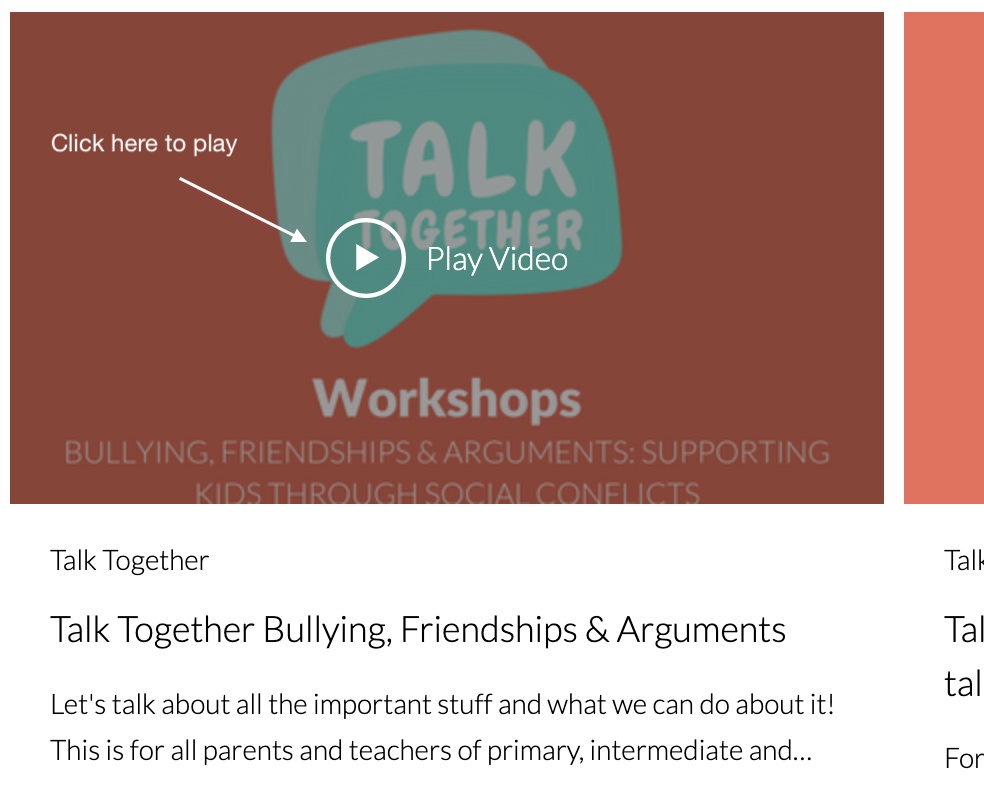 You will also be sent an email confirming your puchase and providing a link to the video. 4. Once you've created an account you see your email come up at the top right hand corner of the web page. Here you can access your account:
If you want to come back to view the purchased video at a later date make sure you're logged in before doing so. If you need any further assistance please email us at info@talktogether.co.nz
---
How do I download resources?
---
To access our resources you must be logged into our website. 1. login or signup to the Talk Together website - you can do this in the top right hand corner of the page or above the resource files section on the Resources page.
Or
2. you will then be asked to either login or sign up for an account:
3. once you're logged in you will be able to download the resource:
---
What is LEGO Therapy?
---
---
---